CYMA CM050 AK47 Tactical Blowback AEG Airsoft Rifle (Black)
[P07B00][05803 / CM050A]
( 9 Reviews )
❤ Add to Wishlist
Description:
The CM050A comes with an automatic blow back bolt that recoils with every shot. The AK features solid construction with a steel receiver, receiver cover, and barrel assembly. Other reinforced metal parts include the selector lever, bolt handle, trigger guard, and magazine catch. The AK also features a unique steel side folding wire stock design and CNC cut rail mount on the Gas Tube plus rail mount on the lower handguard. It also includes a AKM style muzzle brake, adjustable rear sight, and sling attachment points. The CM050A is an excellent airsoft replica of the famous Romanian designed AK and is sure to be popular among collectors; upgrading a Tokyo Marui with similar features could easily cost twice as much as the CM050.
Specification:
Manufacturer: Cyma
Model: CM050 AK47
Muzzle Velocity: 400 FPS
Magazine Capacity: 600 rds
Package Includes: Gun, Magazine, Battery, Charger
Warranty Length: 45 Days
Warranty Handler: Airsoft GI (Warranty Policy)
Features:

Steel Construction

Steel Outer Barrel

Steel Folding Wire Stock

Automatic Blowback Bolt

Rail Front End

Please Note:

Airsoft GI Battery Disclaimer:
Airsoft GI is not responsible for batteries that have been damaged as a result of improper operation, storage, misuse or abuse, accident or neglect, such as physical damage resulting from misuse; contact with liquid, water, rain, extreme humidity or heavy perspiration, sand, dirt or the like, extreme heat, or food; use of the battery for commercial purposes or subjecting the battery to abnormal usage conditions, or other acts which are not the fault of Airsoft GI. Make sure you understand how your battery should be used and how long it should be charged. If you have any doubt regarding the operation, charging, or storage of your battery and/or charger, ask. A charging battery should not be left unattended and should be picked up periodically while charging to check for overheating. Do not charge batteries near flammable material. For more information regarding batteries please refer to the Frequently Asked Questions or the Airsoft GI Airsoft 101 Guide.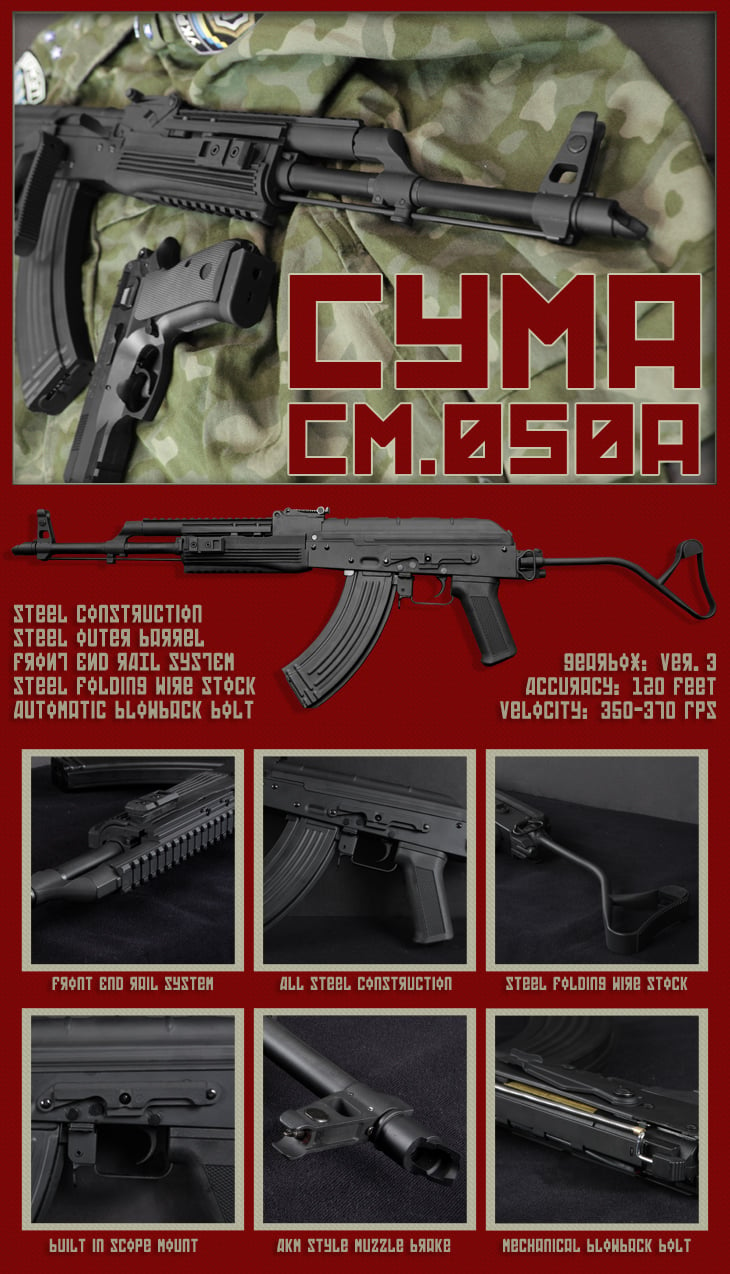 Specifications

Manufacturer: CYMA
Muzzle Velocity: 400+ fps
Magazine Capacity: 600
Fire Mode: Auto
Color: Black
Material: Steel and ABS Plastic
Battery Pack: Stick type
Package Includes: airsoft gun magazine manual cleaning rod battery charger
Stock Type: Folding
Handguard: ABS
Sight: Standard
Overall Length Extended: 863mm
Overall Length Retracted: 685mm
Cylinder Head Type: Plastic
Cylinder Type: Metal Ported
Piston Head Type: Plastic
Piston Type: Plastic
Air Nozzle Type: Plastic
Tappet Plate Type: Plastic
Spring Type: 120
Spring Guide Type: Plastic
Bushing Size: 6mm
Bushing Type: Metal
Gear Set Type: 18:1 standard
Anti Reverse Latch Type: Metal
Motor Type: Standard Short
Hop Up Type: Plastic
Inner Barrel Length: 455mm
Fuse: 20A 250V
MOSFET: None
External

Primary Build Material: Metal and ABS Plastic
Internal

Gear Box: Ver 3 Metal
see 9 reviews
|
Write a Review
K. WILLIAMSON | 2014-09-18
Product Information:
This gun is great! It looks sort of janky in the stock picture airsoft GI puts up there, but you can make this gun look much more tacticool by changing the attachments, namely get rid of the flash hider in favor of a better AK flash hider or a suppressor. Also, ditch the metal waffle mag for a lancer tactical AK high cap, they have a much better profile, for the sight I like the micro RDS. Throw in a 9.6v NiMh or a lipo and this baby sings sweet songs of metal-on-metal lovemaking, in the form of crisp, clean blowback. You'll want to replace the barrel with a 6.04 or 6.03, and definitely get a new hop up bucking, but that's just a general rule for chinese guns.

This gun is the best chinese gun I've ever owned. It has rock solid internals, I've put ~5000 rounds through mine and its still running like the day I bought it.

Pros:
Blowback (no affect on gearbox)
folding stock
rail space (bottom rail will NOT fit a magpul angled grip)
threaded barrel
solid internals
simple enough to disassemble, sturdy parts where it counts

Cons:
stock mags lip pin comes out, magazine gets trapped in the well. Get aftermarket mags.
flashhider makes the entire gun look stupid. get rid of it.
J. HAMMOND | 2014-12-02
Product Information:
I had some internal work done at first but when I got this stock it performed perfectly

Pros:
Metal
Can take a lipo
Feeds well

Cons:
Stock is a little lose
Sometimes have issues putting my battery in
That's all folks
A. BLAND | 2015-03-23
Product Information:
So this was the first AEG I have ever owned, and I absolutely love it! I have had it for almost 4 years and it still works! Now I am not saying that I haven't had any issues with it, because I have had it repaired once but that was a few weeks ago. I still use this gun a lot! At my local field I used the chrono and it was at 410-420 with .20 gram bb's, making it a good field gun, or in my case, cqb (My field is super loose about fps, they have high fps limits and don't require chrono unless it is a modified gun). All in all, great gun, and highly recommend!

Pros:
High quality metal construction
blowback
folding stock
realistic weight and feel
hard hitting fps
durable
Will last you a long time!
Should be worth more than what you're paying for!

Cons:
I had to have it repaired once because the anti-reverse latch broke so it was double feeding, but that was after I owned it for over 3 years, but that is to be expected from owning a gun for that long!
Silencer
0 answers
3 asked

Charger

What kind of smart charger will work?

2566 days ago

Tyler B

0

0

(I have this same question)

Staff Answer:

Tenergy Smart Charger.

2511 days ago

1 answers
1 asked

Would the battery and charter it comes with be best?
0 answers
1 asked

can you change out the stock

can you change the stock for a Leapers M4 LE 6 Position Stock For AEG

2738 days ago

William R

0

0

(I have this same question)

Staff Answer:

No

2736 days ago

1 answers
1 asked

What type of battery?

Can this take a mini type or a large type battry?

2794 days ago

Kain M

0

0

(I have this same question)

Staff Answer:

No, only stick type will fit

2792 days ago

1 answers
1 asked

LiPo?

Would it be ok to run a 11.1 LiPo In this without killing it?

2799 days ago

jared M

0

0

(I have this same question)

Staff Answer:

No

2799 days ago

1 answers
1 asked

I am using a 8.4 currently. Can this aeg use a 9.6 ?
0 answers
1 asked

Can a cqb spring like 350 fps work in this?
0 answers
1 asked

are these good with MAG brand AK mid caps?

I want to know if they're compatible

2872 days ago

dominic r

0

0

(I have this same question)

Staff Answer:

They should work fine

2869 days ago

1 answers
1 asked

Does this have a threaded barrel? If so + or -?

This would help with future purchases

2912 days ago

James M

0

0

(I have this same question)

Staff Answer:

It should have 14mm counter clockwise threads

2911 days ago

1 answers
1 asked

Can you change the stock?
0 answers
1 asked

Can you use plastic BB's with this gun or do you have to use steel BB's?

Can you use for example like .25 gram plastic BB's and up with this gun?

2972 days ago

Jill M

0

0

(I have this same question)

Staff Answer:

This was designed for 6mm plastic bb's. The .25g bbs should work.

2967 days ago

1 answers
1 asked

Can a 9.6 stick battery fit this gun

Will it fit with room for wires to not rub

2976 days ago

justin w

0

0

(I have this same question)

Staff Answer:

It might be able to fit a 9.6 stick. Just have to find a way to hide the wires up forward.

2974 days ago

1 answers
1 asked

What kind of 9.6 can you use?

I want a 9.6 for this gun.

2977 days ago

justin w

0

0

(I have this same question)

Staff Answer:

The airsoft gun should use a stick type battery.

2974 days ago

1 answers
1 asked
Other Great Deals and Accessories:
Select the item from the Drop Down Menu and click add.
Search Tags: CM050 AK47 Folding Stock RIS RAS CQB tactical AK CYMA CM050 AK47 Tactical Blowback AEG Airsoft Rifle ( Black ) ak47 ak 47 ak-47 avtomat kalashnikova kalashnikov rifle 762 7.62 russian soviet union russia Field Outdoor High FPS
People who bought this item also purchased: