CYMA AK/RPK 110 rd. AEG Mid Capacity Magazine (Black)
[X08A06][14597 / SB-C90]
( 2 Reviews )
❤ Add to Wishlist
Free Shipping for orders over $99 No Coupon needed
The CYMA AK/RPK magazine is made out of metal to replicate a realistic magazine, enhancing the authenticity of your AEG. This magazine is designed as a mid cap, meaning you'll need a speed loader of some sort to load the bbs in. Because of this design, the magazine will not rattle or shake under load.
This magazine is recommended for use with the A&K, Echo 1, JG, Tokyo Marui, Classic Army, VFC, ICS, G&G, and G&P M4/M16 series AEGs, it may work with other brands AEG but cannot be guaranteed by Airsoft GI.
Specifications:
Manufacturer: CYMA
Magazine Capacity: 110 rounds

Features:

Durable Construction

Straight Feeding Design

110rd Capacity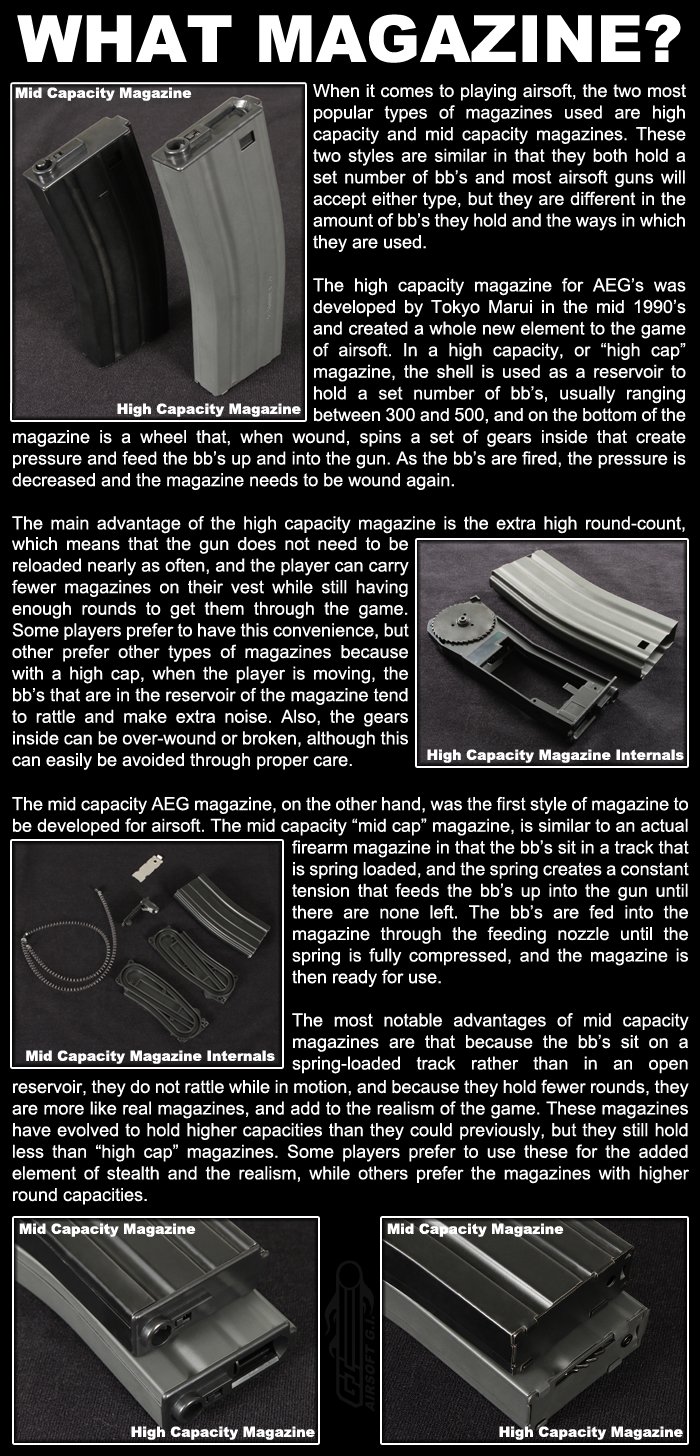 Specifications

Manufacturer: CYMA
Package Includes: Magazine
see 2 reviews
|
Write a Review
verified buyer
E. VON DASSOW | 2014-04-13
Product Information:
These magazines, although made by CYMA, are of refreshingly good quality and functionality. I purchased two for my LCT RPK as madcaps for a support platform. So far they've fed all of the 110-130 rounds that they will accept without any breaking in and I used them for about 4-5 games straight. I lend them out now but they still do well and remain solid. The construction is not particularly amazing however they are of moderate weight, no wobble, and authentic enough finish. This is a very cheap alternative to pricey-branded polymer magazines of similar capacity, and it looks the part with an RPK. Good buy!

Pros:
Good capacity
Stand up to Stress
Good fit on most AK's (LCT, ICS, VFC, ECHO 1, CYMA)
Cheap!
Metal


Cons:
Errrr… They're long?
These magazines are a little more difficult to find pouches for, but you will manage if you're already an avid AK user.
verified buyer
C. DODDE | 2014-10-30
Product Information:
It's pretty decent for a mid cap. It is EXTREMELY large, which can be annoying in certain situations. I always have to take the front grip off my ak to put this mag in. Also it sometimes jams and I have to use a ramrod to unjam it. It doesn't feed perfectly but much better than many midcap mags I have bought. Just stick to high caps, it will save you ALOT of time and money.

Pros:
Very solid construction.
Don't have to wind the wheel every twenty shots.

Cons:
Jams every couple games.
Extremely long.
Doesn't always feed correctly.
Very difficult to load, but all midcaps are.
E&L

Will these fit the spartan delta/E&L aks

1254 days ago

jordan z

0

0

(I have this same question)

Staff Answer:

Magazine specification can vary wildly. We do our best to provide information on incompatible magazines. Still, most AK magazines will be cross compatible with the airsoft gun.

894 days ago

1 answers
1 asked

does it fit in the JG Electric blowback ak-47?

JG Full Metal AK-47S Electric Blowback

2362 days ago

Enrqiue M

0

0

(I have this same question)

Staff Answer:

Magazine specification can vary wildly. We do our best to provide information on incompatible magazines. Still, most AK magazines will be cross compatible with the airsoft gun.

2359 days ago

1 answers
1 asked

Does it fit lancer tacticals?
0 answers
1 asked
Search Tags: Stock Replacement OEM MilSim AEG Rifle Ak Mag Clip Mid Cap Capcity Mid-Capacity AK74 AK47 mid cap midcap medium capacity aeg automatic electric gun airsoft mag magazine clip
People who bought this item also purchased: