Bioval Biodegradable .40g 500 ct. BBs (Tan)
[Q14A01][07803 / BBBBIO40]
( 3 Reviews )
Free Shipping for orders over $89 No Coupon needed
Bioval Biodegradable BBs are the only Bio BB approved for use by the USA Department of Natural Resources. Bioval BBs are some of the most consistent and high quality Biodegradable BBs on the market and are quickly becoming very popular with in the airsoft community. Each BB is perfectly spherical, contains no air bubbles and is constructed of 100% natural ingredients.
Please Note: Since BIO bb's use moisture to degrade into the environment, improper storage of bb's may lead to deformities, imperfections, etc, that can lead to damaging the internal working of an airsoft gun. Make sure they are stored in a cool, dry environment, within a sealed bag with all the air forced out. Damage caused from improper storage of bb's will not be covered by warranty
Specifications:
Manufacturer: Bioval Technologies
Size: 6mm
Weight: 0.40g
Quantity: 500 bbs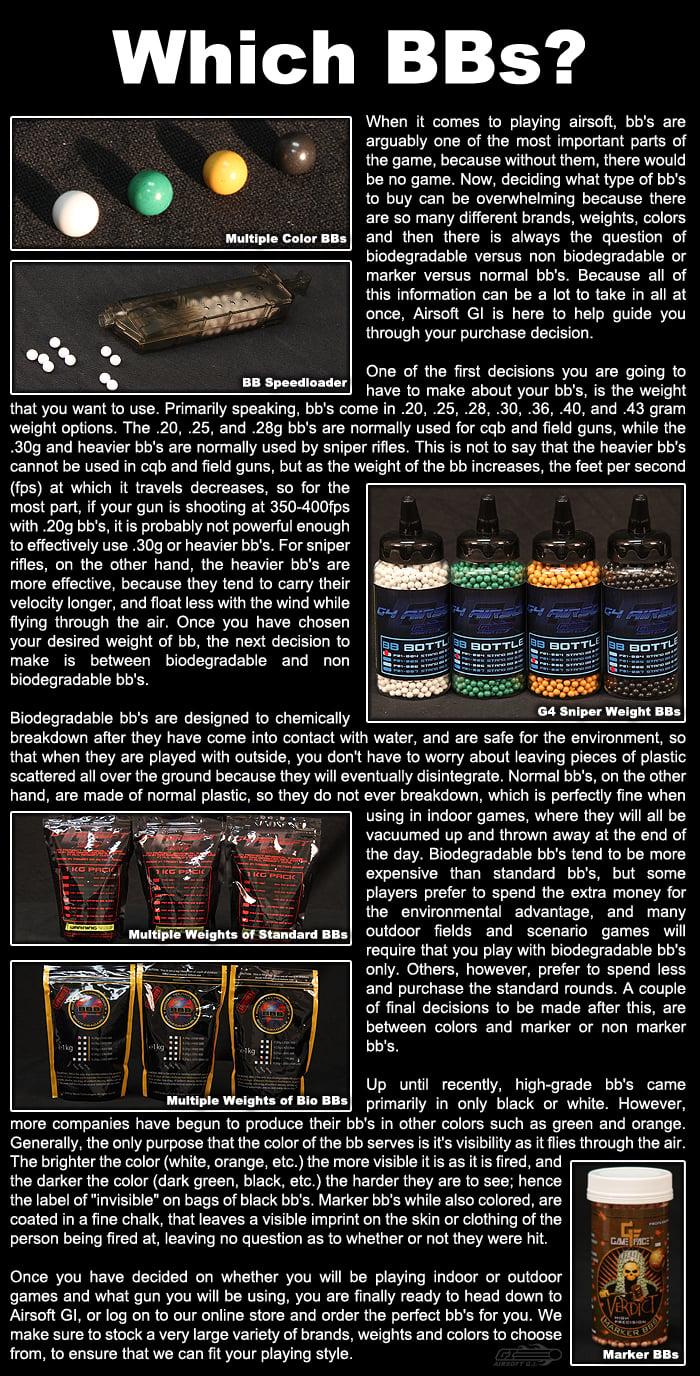 Specifications

Manufacturer: Bioval Technologies
see 3 reviews
|
Write a Review
verified buyer
D. MUELLER | 2011-04-15
Product Information:
These bbs are absolutely awesome. I was hitting a 3 by 12 street sign at 175 feet [measured]. Absolutely great in my g98. Much better bbs than my javelin 0.40g and my madbull 0.40g.

Pros:
accuracy
range
dropped my guns fps to about 410

Cons:
PRICE$$$$
verified buyer
S. WHITAKER | 2013-05-16
Product Information:
These BB's are absolutely amazing. I've used a variety of different BB brands (TSD, Javelin, G&G) before these & I will say that these are the most precisely constructed & most accurate BB's I've used to date. These things are so round & smooth that that they can be a little slick in the hands & they fly out of the barrels with no resistance.I have had jams with some of the other brands, not a single one with these puppies. Some may say the price tag is a bit steep, I can somewhat agree, but one must keep in mind that Biodegradable BB's have always costed more than their standard polymer counterparts. I have every intention to make this brand the standard issue BB for my squad.

Pros:
Biodegradable
Great accuracy
Flawlessly smooth


Cons:
Cons?
Other than maybe the price, I have none to report.
Try a bag & see if you have the same luck that I have had with them.
B. PEARCE | 2014-03-19
Product Information:
I hate to be the bearer of bad news, but these BBs are worthless. I ordered a bag of these for a 545 FPS M16 sniper.
I have over 25 guns from Lancer, A&K JG, G&G TM VFC, and KWA. These BBs wont feed in any of them. I also ordered 3 bags of .25 same thing. I ordered these because of the good reviews and the fact that I need bio BBs for a op coming up. I use .43 of another brand and can hit a 5.5x5.5 target at 75 yards. I was lucky if I could hit a man size target at 75 FEET. My son in law ordered the same thing. He had the same thing happen to him. All he owns is KWA. I cant with a clear conscience recommend these BBs to any one.

Pros:
The BBs look really good nice and slick.

Cons:
BBs wont feed no matter what mag is used.
Search Tags: High Quality Precision Grade Seamless Polished Ammo BBs Bag .40 .40g 40 40g .4 .4g g Sniper bio bios biodegradable
People who bought this item also purchased: