Big Mystery Box 13 Feat. $2000 MONSTER BOX, TM M4A1, PTS Mega Arms, LCT & More!!!
[38550]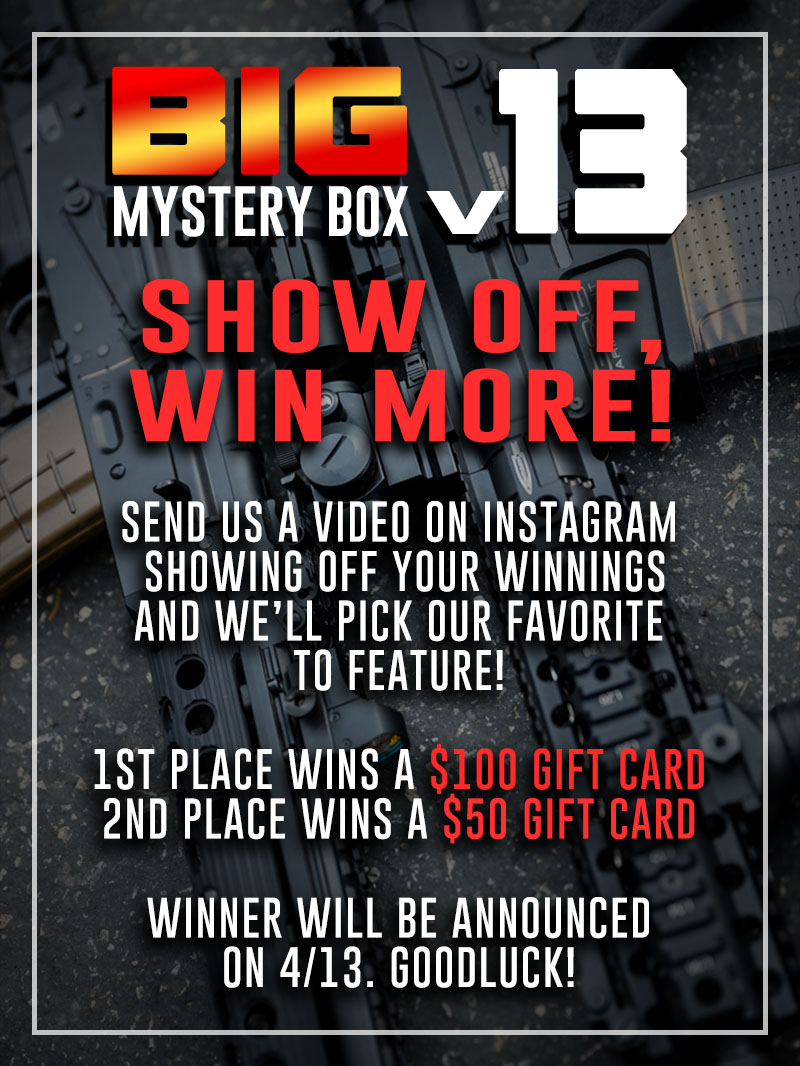 No Returns or Exchanges
Available for sale: 4:00 PM PST (7:00 PM EST), Friday 03/13/2020
The quarter of the of the year is almost at its end! Now is your chance to be the lucky winner of the monster box that features FIVE store-built custom airsoft guns. This amazing value does not stop there! A couple of lucky individuals have an opportunity to win the hit items with a price tag way above the amount you pay for one mystery box! The Tokyo Marui M4A1 alone retails at $500 and the LCT series vary in prices around $300-400!
Bundled packages in this mystery box include the items necessary to complement each otherís purpose! At one point of time, you may have been interested in the challenge of using an airsoft sniper rifle. The VSR10 compatible sniper rifle in this bundle comes with an M92 secondary pistol for your complete kit! If CQB gameplay is your ambition, then the Echo 1 GAT is perfect for you. The GAT package comes with an extra 550 drum magazine for plenty of fire power during your matches.
The goods do not stop there! There are plenty of high valued items in this mystery box that are worthwhile. Browse through dozens of various models from ARES, Tokyo Marui, Modify, PTS, Echo 1, LCT, E&L, Double Bell, Lancer Tactical, and JG! Nevertheless, you are guaranteed an airsoft gun that you will definitely appreciate to have in your arsenal!
What is a Mystery Box?
With the purchase of a Mystery Box, you are guaranteed to receive an item that's MSRP is at least what you paid for the box. However, you have a chance to win great prizes worth well more than for what the Mystery Box was sold.
Want to know more? Check out our Airsoft GI TV Blog post explaining mystery box details by clicking HERE. Browse through our blog coverage of airsoft products, tips, advice, promotions, and more at our Airsoft GITV Blog!
While you are at it, read through our post on electric vs gas powered airsoft guns, different models, comparisons and more covered with our Top Airsoft Questions - "Which" Edition
Please Note:

We do the very best that we can to randomize the entire process of the mystery box creation. Nevertheless, there is still a probability that if multiple boxes are purchased that duplicate items will be received. In order to maintain the integrity of the mystery box and make it fair to all who participate, no refunds or exchanges will be made for mystery box items. Thank you for your understanding.
Mystery Boxes are NOT Canadian Compliant.
Mystery Boxes are NOT eligible for international shipping. International orders placed for Mystery Boxes will be CANCELED AUTOMATICALLY.
The weight of each individual mystery box is equivalent in order for it to be fair for everyone.
Battery and Charger may not be included in some airsoft guns.
Value of each item is determined by the MSRP (Manufacturer Suggested Retail Price)
Specifications

Manufacturer: Airsoft GI
Search Tags: Deals Discounts Holiday Special Sale Package TM Tokyo Marui PTS Mega Arms LCT Echo 1 Echo1 Classic Army Ares JG Double Bell Lancer Tactical
People who bought this item also purchased: