Airsoft GI G4-A2 Blazing Hog w/ Daniel Defense SOPMOD RIS Blowback Version AEG Airsoft Rifle
[06266]
( 26 Reviews )
Free Shipping for orders over $89 No Coupon needed
Never before have we built a gun with such a high value per dollar ratio. The base gun is a special Combat Machine Blowback M4 with a crane stock that's wired to the back. The brilliant techs at Airsoft GI have fitted a Metal outer barrel, Official License Noveske Flash Hider, and Official License Daniel Defense Free Float RIS. As a result, the final product is a unique carbine with flush look and sturdy front end. We've worked out a special program with Combat Machine to build us a special M4 with a crane stock, sling mount, and the wires to the back, so we can eliminate the need for a PEQ box and keep a clean look. The Combat Machine was carefully chosen for their high quality, reliability and incredible value. We've dropped the G4 straight onto the ground from 8ft and 9ft with no visible damage to the body, this is the strongest plastic receiver on the market. Additionally, with the innovation and imagination from the Airsoft GI technical team we are building some of the highest quality guns that money can buy.
Attention Airsoft GI Customers:
If your G4 includes an iron sight, it will include the one in the above picture
OR
the one pictured here: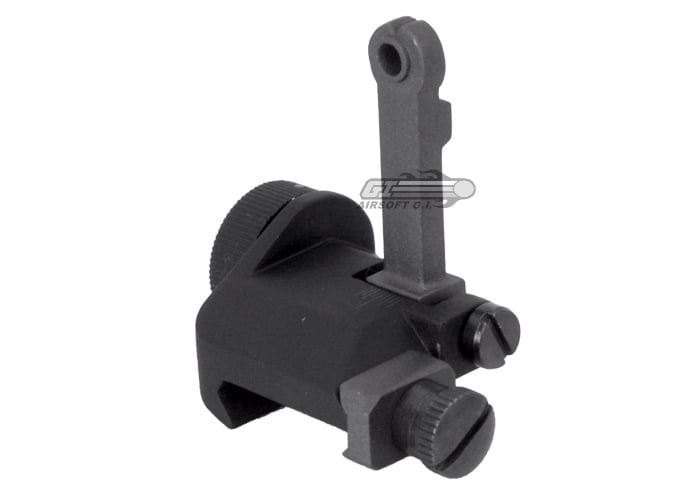 This incredible offer is only available at Airsoft GI. If you were to buy all these parts individually it would cost over $420.00!

170 for the base gun
110 for the rail
45 for the barrel
50 for the flip sights
40 for the crane stock (assuming the gun is already wired for a crane stock)
35 for the flash hider
Only Airsoft GI can save you that much money on such high quality items.
Specifications:
Manufacturer: Airsoft GI, G&G
Muzzle Velocity: 350-370 fps
Magazine Capacity: 450 rounds
Battery Type: Nunchuck (similar type batteries will also work, call Airsoft GI if you require more clarification)
Package Includes: Gun, High Capacity Magazine

Features:
Flip up back up sights
Special Combat Machine Model Base Gun
Official License MK18 RIS
Pneumatic Blowback System
Metal Outer Barrel
Noveske Flash Hider
Rear Sling Mount
Crane Stock, wired to rear
450 rounds Magazine

Please Note:

Scope and Flashlight are not included.
Battery and Charger not included.
This product is covered under a 45 days warranty against workmanship and defect, for more details contact Airsoft GI.
This product is built to order, please allow 1-5 days additional processing time.
In the event that the Noveske KX3 Flash Hider is not available it will be replaced with the Noveske KFH.
Specifications

Manufacturer: Airsoft GI
Magazine Capacity: 450 Rds
Fire Mode: Safe Semi Full
Color: Black
Material: Polymer
Battery Pack: Not Included
Package Includes: Gun Magazine Unjamming Rod Noveske KX3
Outer Barrel Length: 10.5in
Stock Type: Crane Stock
Handguard: Madbull 9.5in Daniel Defense RIS II (Black)
Sight: B-2 Flip Up Front and Rear Sights
Overall Length Extended: 34 inches
Overall Length Retracted: 30 inches
Cylinder Head Type: Polycarbonate
Cylinder Type: G&G Blowback Cylinder
Piston Head Type: Polycarbonate
Piston Type: Polycarbonate
Air Nozzle Type: M4/M16
Tappet Plate Type: Ver. 2
Spring Type: G&G 120
Spring Guide Type: Ver. 2 G&G Metal Spring Guide
Bushing Size: 8mm
Bushing Type: Brass Bushings
Gear Set Type: G&G Standard Ver. 2
Switch/Wire Type: M4 Rear Wired
Selector Plate Type: M4
Cut Off Lever Type: Ver. 2
Anti Reverse Latch Type: G&G Blowback Anti-Reversal Latch
Motor Type: G&G Standard Motor (Long)
Hop Up Type: Plastic
Inner Barrel Length: 300mm
Sector Gear Clip: No
Fuse: Yes
MOSFET: No
Connector: Small Tamiya
Quick Spring Change: No
External

Primary Build Material: Polymer
Internal

Gear Box: G&G Blowback Gearbox (Ver. 2)
Options

Spring Release: Yes
see 26 reviews
|
Write a Review
verified buyer
D. JUDY | 2014-02-07
Product Information:
This gun is one of the best guns I have ever had! Soooo worth the money. I really am impressed with it and others are as well because as soon as I take it out of the car at the field people come up and ask me where I got it.

I had been looking for a new gun for several weeks but just couldn't find the gun that I wanted... too small too long, ugly, too weak, too expensive, too cheap, no rails but then I noticed this one on the Airsoft Gii YouTube page and loved it.... Its the perfect size for me (5'7" 190lbs) and it has all the features I was looking for and then some at a awesome price. I still cant believe the price is so low since it has some much extra... the Danial Defense rail system and the Noveske flash hider and the infidel dust cover ... things I would have had to buy to add on anyway. The gun just looks impressive our of the box but I have already added a Magpul foregrip and a magpul sling, I ordered a tactical light and rail mount and UTG rail covers but they have not arrived yet. The gun shoots great and I can hit a target from some surprising distances.

If you are looking for a great gun you can get and it'll run out of the box, this one is great.

Pros:
Included free in the deal is a
Danial Defense rail...
Noveske... flash hider (obviously non functional but does make the gun sound great and loud!)
Crane Stock works awesome... order one from E#%#$ and it was junk couldnt work the stock at all.
Infidel dust cover... almost perfect
Shoots fast and is very accurate... very accurate.
Airsoft GI is great to order from... I got all my stuff from EV##e and even when stuff arrived broke they would replace it AirsoftGI has been great and will back there products... so both myself and my daughter have ordered a ton of stuff from them in the last few weeks to get ready to hit the fields this summer.
Shipping was fast I think I ordered it on a Wednesday and it was built and shipped the next day...



Cons:
I am a critical person so I can always find a con...
The dust cover when flipped down will cover the edge of the mag release button just enough to cause an issue.
The mags... doesn't slide out as smooth as I would like... Its new so I am hoping that it will break in better.
The gun I was told was not a lipo ready... who would want a lipo ready gun.
STOCK LEVEL... I used the "request item" button to let me know when I could order it but I have to say I got a prompt email and ordered it within minutes and by the next day or so they were sold out again... proof how popular this gun is but can be a pain if you want one.
verified buyer
J. DAU | 2014-04-17
Product Information:
When my old reliable Echo 1 G36c (which I've been battling with since 2007) finally broke down on me, I wanted to not only replace it, but to improve upon it. I have to say, this AEG did that and more. It's built on a very solid G&G Combat Machine platform, and the RIS, crane stock, precision barrel and flash hider only further sweeten the deal. My close friend has a Classic Army M4, and this thing blows it away in terms of realism and durability. Mine came certified at 390 fps, and let me tell you, that combined with a high RoF is absolutely lethal on the field. I really cannot say too many good things about this build.

Pros:
-Powerful, accurate and reliable (I've put over two thousand rounds through this thing already and it's still going strong, and it hits targets 50 ft. away)
-Solid construction-Plenty of metal, and the plastic is the highest quality you're likely to find in this game
-Great accessories-This would be worth it for the Daniel Defense rail alone
-Electric blowback adds just that touch of realism to up the intensity of your experience

Cons:
Only two:
-The dustcover can get in the way of the clip release a little bit, but this is easily adapted to
-With the battery in, the stock can't be adjusted to its most combat configurations
C. FERNANDEZ | 2014-07-21
Product Information:
Had this gun for a while. Shoots well, feels sturdy, and is very light. There is no real internal issue with mine. Except that it jams if you pull the trigger too fast on semi. inner barrel is longer than the outer barrel. FPS is at 370. which isn't that bad. I don't care for FPS. Could do without the blowback feature. Paint chips but it gives it more of a "used" look which i like, others may not.

Pros:
Lightweight (might be con to some)
Nice trigger response
Range is good
FPS is Fine 370 (might be con)
RIS


Cons:
Can't pull the trigger too fast on semi
Inner barrel peaks out of the outer barrel
No real cons on this gun besides that. Other than that It's a great airsoft rifle
Lipo

Can I use a lipo in this gun?

1608 days ago

Kaimana T

0

0

(I have this same question)

Staff Answer:

Anything higher than a 7.4v lipo will void warranty.

1606 days ago

1 answers
1 asked

What to do if won't shoot

Makes a little click and that's it

1835 days ago

Nikia M

0

0

(I have this same question)

Staff Answer:

Please contact customer service at (909)869-0671 so that one of our representatives may walk you through troubleshooting.

1834 days ago

1 answers
1 asked

When will this be back

Do you guys have a eta when it will me back in

1998 days ago

Bobby B

1

0

(I have this same question)

Staff Answer:

We have no ETA at this time

1998 days ago

1 answers
1 asked

restock

I was wondering I was thinking about buying this gun around when is it going to be restocked?

2014 days ago

sammy b

0

0

(I have this same question)

Staff Answer:

We are working on getting more in stock

2011 days ago

1 answers
1 asked

Hop Up

What type of hop up system does it have installed already?

2045 days ago

Carlos F

0

0

(I have this same question)

Staff Answer:

The airsoft gun should have a G&G one piece hop up unit.

2043 days ago

1 answers
1 asked

What is the approximate time for this item to be restocked

It's currently out of stock and only wanted to know when it will get restocked

2065 days ago

Kevin H

1

0

(I have this same question)

Staff Answer:

We are currently working to get these back in stock

2061 days ago

1 answers
2 asked

Spring

Would this gun be ready out of the box for an upgrade to a 140 spring?

2071 days ago

Jacob B

0

0

(I have this same question)

Staff Answer:

No. You would need to upgrade the internals.

2068 days ago

1 answers
1 asked

Sights

Are you able to take off the flip up sights that come with this gun

2077 days ago

Tyler C

0

0

(I have this same question)

Staff Answer:

Yes, it is removable

2075 days ago

1 answers
1 asked

Shipping?

How long does this gun usually take to ship?

2079 days ago

Eric Y

0

0

(I have this same question)

Staff Answer:

This product is built to order, please allow 1-5 days additional processing time before shipping.

2079 days ago

1 answers
1 asked

Does this gun come in tan?

Me and my brother are big in the air soft community but he went with black color and i went with tan. I was wondering f you had this in tan?

2081 days ago

Eric Y

0

0

(I have this same question)

Staff Answer:

No, it is only available in black

2080 days ago

1 answers
1 asked

Magazine fitting
0 answers
1 asked

play

would this gun be adequate for field use?

2114 days ago

Noah s

0

0

(I have this same question)

Staff Answer:

it should be

2113 days ago

1 answers
1 asked

FPS

What is the fps range for this gun, because i've seen alot of different ones, ranging from 360-420, so what is the correct range of fps.

2115 days ago

Noah s

0

0

(I have this same question)

Staff Answer:

The FPS listed should be the correct FPS.

2114 days ago

1 answers
1 asked

Flash Hider

I know this gun comes stock with the noveske kx3 flash hider but i was wondering if i could get the Kfh flash hider instead.

2115 days ago

Noah s

0

0

(I have this same question)

Staff Answer:

you would have to purchase the additional flash hider separately

2114 days ago

I know this gun comes stock with the noveske kx3 flash hider but i was wondering if i could get the Kfh flash hider instead.

2115 days ago

Noah s

0

0

(I have this same question)

Staff Answer:

You would have to purchase the aditional flash hider separately

2114 days ago

2 answers
1 asked

Trademarks
0 answers
1 asked

Field Play

I know the description says that it is for field play, but would this gun be better for cqb or outdoor play?

2115 days ago

Noah s

0

0

(I have this same question)

Staff Answer:

Playing outdoor or indoor is personal preference. This gun should be able to handle both

2115 days ago

1 answers
1 asked

Bolt Catch

does this gun have a functional bolt catch?

2115 days ago

Noah s

0

0

(I have this same question)

Staff Answer:

It does not.

2115 days ago

1 answers
1 asked

range

what is the effective range of this gun?

2115 days ago

Noah s

0

0

(I have this same question)

Staff Answer:

should be between 100-150 feet.

2115 days ago

1 answers
1 asked

stock

when is this gun going to be back in stock?

2116 days ago

Noah s

0

0

(I have this same question)

Staff Answer:

We are currently working to restock this gun.

2115 days ago

1 answers
1 asked

barrel

is this inner barrel 6.03 like it says in the desciption or is it 6.08?

2116 days ago

Noah s

0

0

(I have this same question)

Staff Answer:

It should have a 6.06

2115 days ago

1 answers
1 asked

Threads?

Since it comes with a Noveske flash hider, it's ready to accept mock suppressors right?

2152 days ago

Cha X

0

0

(I have this same question)

Staff Answer:

The threading for the airsoft gun should be 14mm Counter-Clockwise.

2152 days ago

1 answers
1 asked

how many credits do you get off your but this gun

Like the ones for free stuff

2207 days ago

garett p

0

0

(I have this same question)

you probably get 3000 like most of the other guns with free gifts.

2115 days ago

1 answers
1 asked
Search Tags: Nylon Fiber Receiver M4 RIS CQB Combat Crane Stock High Capacity Daniel Defense M4A1 G4 A2 RAS Rail Rails System Polymer Blow Back Rifle DD Sound Noise Amplifier Noveske
People who bought this item also purchased: