Airsoft GI G4 .28g 1Kg 3300 ct. BBs (White)
[M05A02][07213 / P01-006]
( 4 Reviews )
❤ Add to Wishlist
Free Shipping for orders over $89 No Coupon needed
The Airsoft GI G4 Airsoft 0.28g is a high quality, high polished spherical ball bullet. Made in Taiwan, these G4 BBs have less then 0.01mm deviation in each BB therefore a consistent shot is easily attained. These are easily the best BBs for the price.
Specifications:
Manufacturer: Airsoft GI
Color: White
Dimensions: 5.95mm
Quantity: 3300 rounds per bag
Design: All electric guns, spring guns, gas guns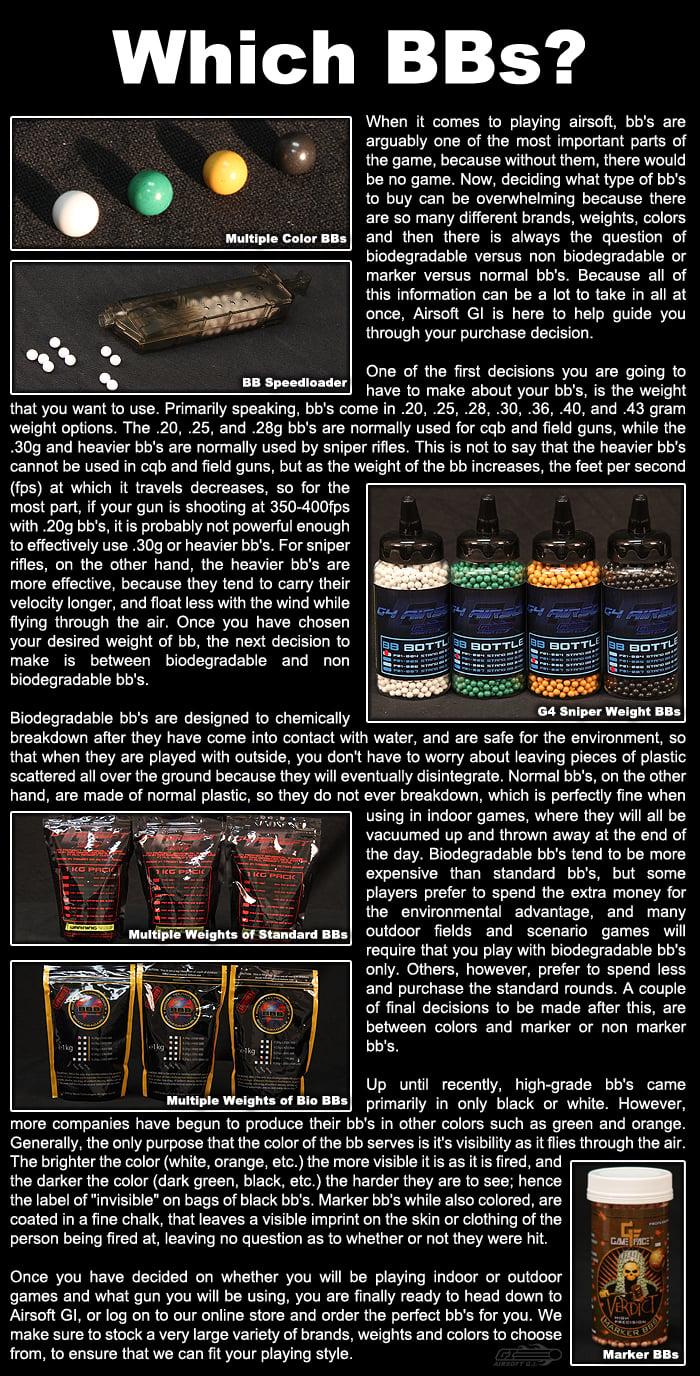 Specifications

Manufacturer: Airsoft GI
see 4 reviews
|
Write a Review
verified buyer
D. MCDUFFIE | 2012-12-30
Product Information:
They are GREAT BBs. I bought them for my UTG Mk96 and I don"t miss a shot. These BBs have really good wind resistance and are best for guns 350-450 fps.

Pros:
No BBs were make incorrectly ex half BBs (have had it happen before).
Very good wind resistance
It comes with allot (if your a sniper, that is).
Very accurate.
Doesn't lower your fps much more than .2s

Cons:
Nothing that i can think of. These BBs are awesome.
verified buyer
A. SALATA | 2012-12-29
Product Information:
I won these for free in the Seasonal Giveaway. I used them in my KWA Km4 to test it them out, and I loved them. They shot accurately, more accurate than .25g BBS. Also, they are white, so you can see them while you are shooting. Overall, great BBs, and I would purchase again.

Pros:
Cheap
Resealible Bag
Accurate
White so you can see them (Pro or Con)


Cons:
White so you can see them (Pro or Con)
P. BROSSAY | 2013-04-15
Product Information:
amazing. They are perfect not one problem.


Pros:
cheap
perfect
accurate


Cons:
addicting
Search Tags: High Quality Precision Grade Seamless Polished Ammo BBs BB Bag .28g .28 g 28 28g ASGI Airsoft Gi Brand Branded G4 Series
People who bought this item also purchased: