Action Army 6.03mm Extreme Precision Inner Barrel for PSG-1/KJW M700 (640mm)
[SF27][06046 / AAC-D01-011]
( 3 Reviews )
❤ Add to Wishlist
Free Shipping for orders over $149
No Coupon needed
Precision barrels are best described as an inner barrel with a diameter of 6.03mm or less. Precision inner barrels allow for better compression, improved accuracy, and in a few cases increase muzzle velocity. Although precision barrels often require more maintenance and cleaning, they can give an AEG a greater range and improve the overall performance of an airsoft AEG.
Specifications: Manufacturer: Airsoft GI Bore Diameter: 6.03 mm Gun Type: FSG1/KJW M700 Barrel Length: 640mm
Please Note:

Modification is required to fit this barrel. For more specifics please contact our tech department by e-mail at [email protected]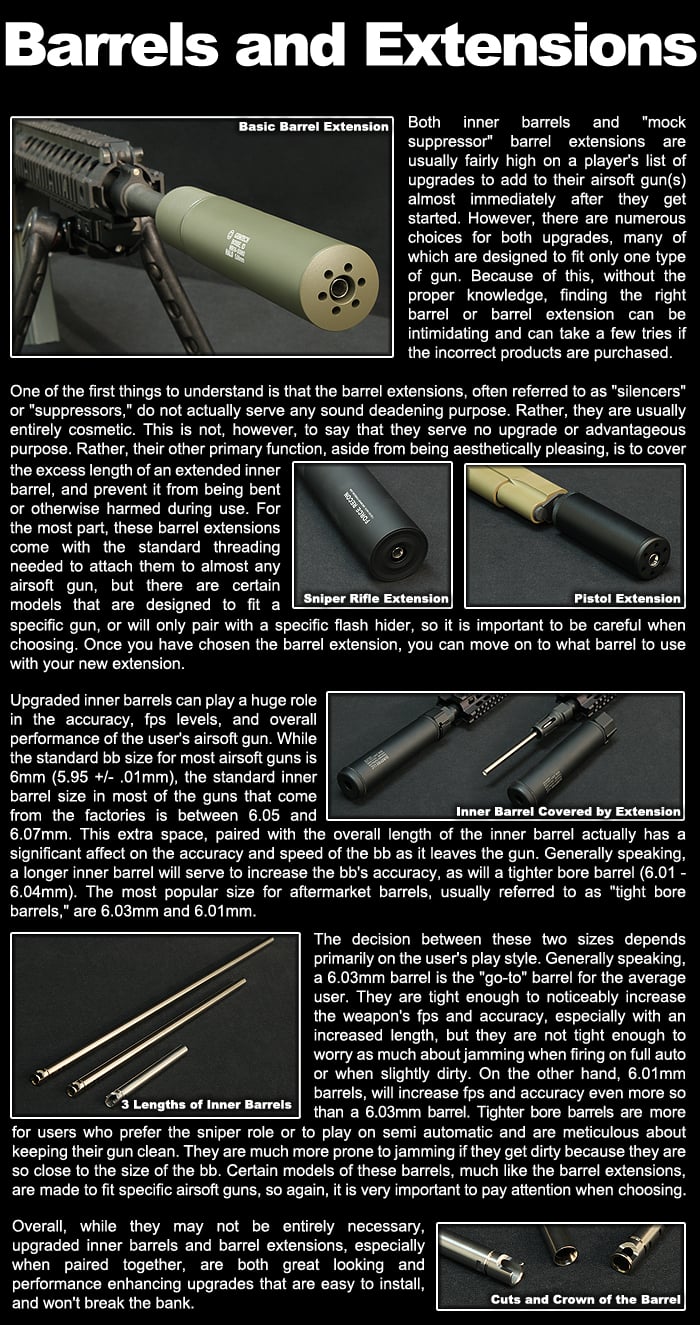 Specifications

Manufacturer: Action Army
Color: Silver
Size: 640mm
Material: Brass, Chrome Coated
Package Includes: One (1) Precision Inner Barrel
see 3 reviews
|
Write a Review
verified buyer
I. IMERI | 2010-04-25
Product Information:
A MUST needed upgrade. When i bought this it let me hit man sized targets from 330 ft. plus with my kjw m700.

Pros:
Accuracy
And pretty much everything else

Cons:
Make people fear me
verified buyer
C. MARTIN | 2013-10-31
Product Information:
Good quality for a reasonable price, improved the effective range of my kjw m700 significantly and improved accuracy. Only downside was that the barrel had to be cut to fit into a kjw m700. Worth it if you're OK with trimming it down a little

Pros:
Improved range and improved accuracy greatly,
good price (compared to 70-100 for some barrels)

Cons:
Needs to be cut down to fit into the outer barrel
verified buyer
D. LITTLEFIELD | 2014-02-14
Product Information:
Great barrel. Finish is beautiful, and a must have for anyone with a KJW M700. Kicked fps up by about 30fps on the average just by installing this barrel. Since it is made to fit more than one gun, the barrel is 10mm to long for the KJW m700. This can be solved one of two ways, either trimming the barrel by 10mm or by drilling out the front end cap of the rifle. I chose to drill out the endcap and preserve the barrel, which although time consuming, wasn't very hard.

Pros:
Increased Accuracy
Increased Avg. FPS
Smooth finish on barrel
Incredible product for the price
Absoloute must have for the KJW m700

Cons:
Barrel is 10mm longer than the m700 stock barrel.
No other cons about this barrel, there really is no way you can go wrong with this product, especially for the price!
Would this work in jg

Would it

2713 days ago

Hank B

0

0

(I have this same question)

Staff Answer:

No

2713 days ago

1 answers
1 asked
Search Tags: Bolt action upgrade Tight Bore Tightbore
People who bought this item also purchased: