Action Army 6.03mm Extreme Precision Inner Barrel for E90 (250mm)
[SF27][05842 / AAC-D01-001]
( 4 Reviews )
❤ Add to Wishlist
Free Shipping for orders over $89 No Coupon needed
Precision barrels are best described as an inner barrel with a diameter of 6.03mm or less. Precision inner barrels allow for better compression, improved accuracy, and in a few cases increase muzzle velocity. Although precision barrels often require more maintenance and cleaning, they can give an AEG a greater range and improve the overall performance of an airsoft AEG.
Specifications: Manufacturer: Airsoft GI Bore Diameter: 6.03 mm Gun Type: E90 Barrel Length: 250mm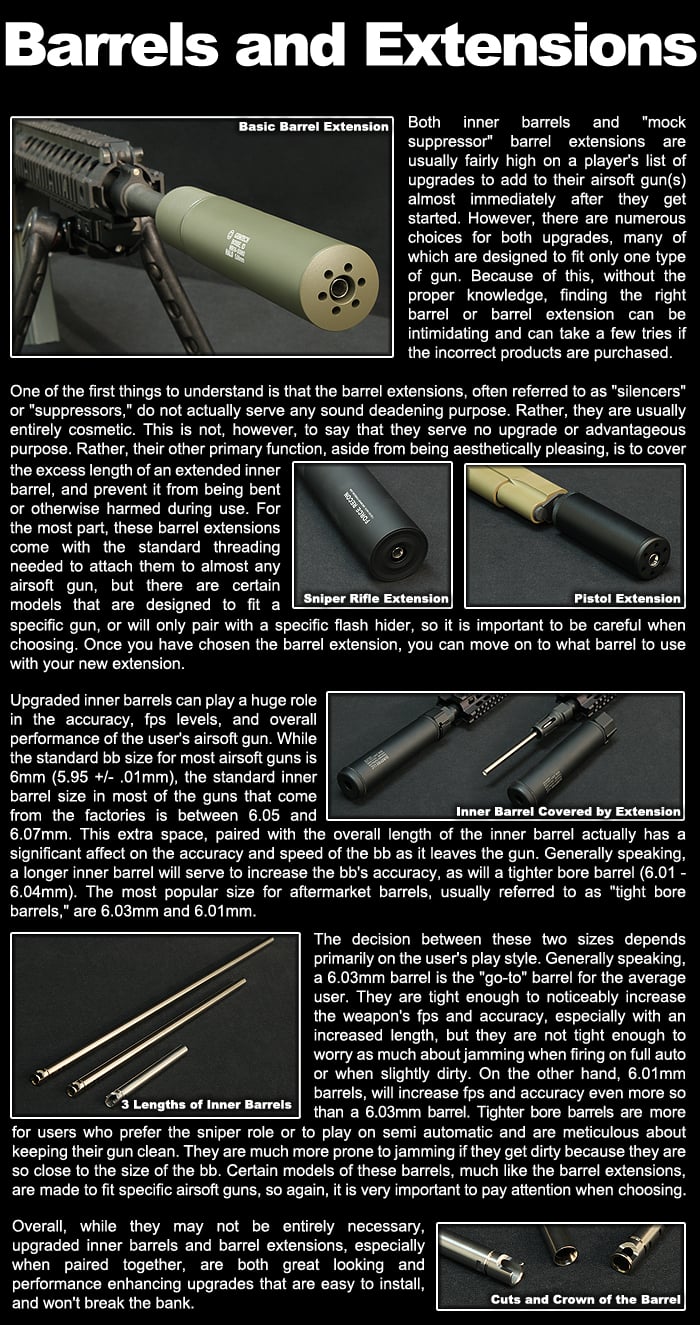 Specifications

Manufacturer: Action Army
Color: Silver
Size: 250mm
Material: Brass, Chrome Coated
Package Includes: One (1) Precision Inner Barrel
see 4 reviews
|
Write a Review
verified buyer
J. PRUITT | 2009-12-02
Product Information:
This tight bore barrel is superb for the price. I installed one of these in my dad's Echo 1 MTC (thats the G36) Clean and very smooth bore allows for really accurate shots and increases range and FPS. Easy to install, if you are new to upgrading airsoft guns, a PE tight bore is a good beginners lesson

But do note, you need to do a few things to make tight bores work really well:

1: Clean them every now or then. If you are using good quality ammo, then the barrel wont gunk up as fast and you can shoot more

2: Use good ammo. Walmart crossman ammo is not bad for stock 6.08 barrels, but they will drastically decrease your accuracy with tight bores. You need good ammo - I recommend G&G ammo... especially .25's in your harder hitting guns.

3: Have a good hop up, often times your stock JG and CYMA hop ups are not even good enough for the stock barrel and cheap ammo... so if your gun doesnt shoot as far as you would like or as accurately, check your hop up.

In the case of the MTC, a new hop up bucking was needed to make the gun more accurate and give it range, the stock Echo 1 hop up was terrible and did not give it enough back spin to make it shoot far

Pros:
Price
Easy Installation
Quality


Cons:
In the MTC, new hop up bucking...
verified buyer
C. MOTA | 2009-12-30
Product Information:
not bad from gi im very impressed the way this thing works
made of a very good metal and made my p90 shoot way straighter than the barrel it came with.
i say get this product for ur p90

Pros:
-6.03
-increased fps by a lil bit


Cons:
- its 250mm i wish it was like 300mm
other than that its good
verified buyer
A. PORTER | 2010-07-25
Product Information:
I was incredibly unimpressed with this barrel. The accuracy was worse than with a stock cm.030 barrel, although not by much. All in all, its just a really mediocre barrel, to the point where its not worth its very low price, as the improvment over stock quality is little to none, especially when for a few dollars more, better barrels can be had. I would recomend it only as a replacement for a damaged barrel of similar leangth.

Pros:
Cheap.
Very nice silver finish

Cons:
Strikingly average preformance.
Not cheap enough to make up for its lack of quality.
will this fit into a G&G GR4 G26?
0 answers
1 asked

Will this work in an Echo 1 TROY?

I'm trying to get a better barrel, so that my AEG will fire more accurately.

2299 days ago

Jason W

0

0

(I have this same question)

Staff Answer:

This should work. You will want to use roughly the same inner barrel length as your current inner barrel.

2298 days ago

1 answers
1 asked

Will this work in my JG G36c?

I just bought a JG G36c and deciding to work to improve its existing strengths ,I set out to find a good quality, cheap, and accurate barrel... so HERE I AM.

2328 days ago

Ethan N

0

0

(I have this same question)

Staff Answer:

This should work.

2326 days ago

1 answers
1 asked

would this work on m4 aegs?

I'm downsizing the barrel on my stock m4 and want a shorter inner barrel to accommodate for the shorter outer barrel.

2339 days ago

jdt e

0

0

(I have this same question)

Staff Answer:

Yes, this would work for M4's.

2339 days ago

1 answers
1 asked
Search Tags: Tokyo Marui ICS JG SRC Cyma Echo1 VFC G&P AGM King arms G&G Upgrade AEG Cut FPS Accuracy Tight Bore Tightbore P90
People who bought this item also purchased: