AIM Sports 2.5-10x40 QD Scope (Cut Sunshade & Red/Green P4 Sniper Reticle)
[W09A04][07729 / JTSDP251040G]
( 2 Reviews )
❤ Add to Wishlist
Description:
Featuring a QD mounting system, the AIM Sports 2.5-10x40 scope is a great scope for a DMR type of AEG. This Scope features an illuminated sniper style reticle that is adjustable on the fly with high quality windage and elevation turrets. A sunshade has been incorporated into this scope which helps reduce lens glare. This scope is constructed out of a solid piece of aluminum for maximum durability and is finished in matte black which is both scratch and fade resistant.
Specifications:
Manufacturer: AIM Sports
Zoom: 2.5-10
Objective Diameter: 40mm
Reticle: P4 Sniper
Exterior Finish: Matte Black
Lens Coating: Green

Features:

Variable 2.5-10x Magnification

Easy Adjust Windage & Elevation Turrets

QD Mounting Lever

Compact Design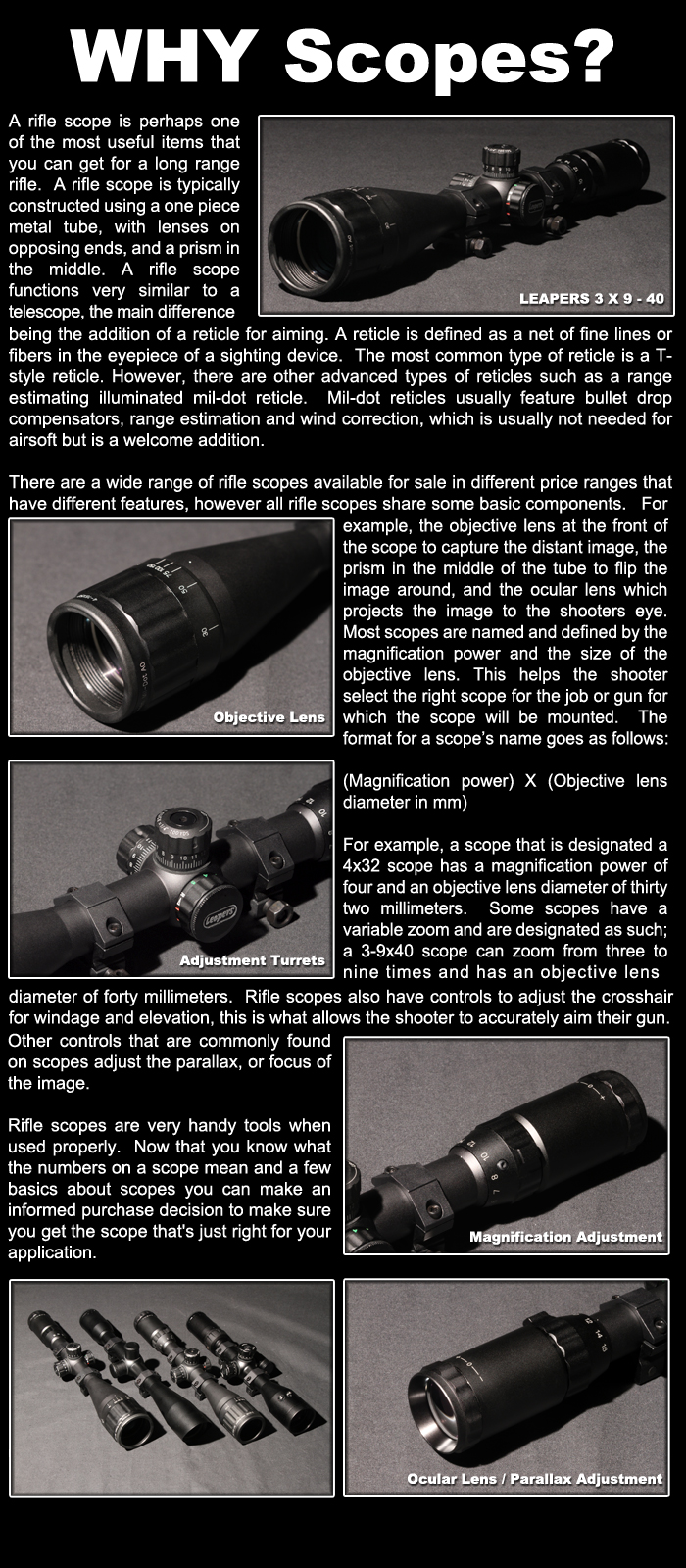 Specifications

Manufacturer: AIM Sports Inc.
see 2 reviews
|
Write a Review
Q. JM | 2013-11-18
Product Information:
I got this scope last year and it is very nice! I love that you can change the colors of the reticle. It's a little pricey for just a scope but I think it's worth the money.

Pros:
Full Metal
Eye Relief
Glare resistance
Quick Release Mount
Cool Box

Cons:
Mine didn't come with the cover for the top adjuster.
Nothing.
verified buyer
D. DEKOWSKI | 2013-11-25
Product Information:
Great scope that is perfect for a DMR or andy mid to long range gun!

Pros:
solid metal
sunshade
magnification change is good for quick spotting

Cons:
its a bit wobbly on the base
the lights aren't necessary and can be distracting (i just keep them off)
the magnification adjuster is stiff
Compadability

Is this scope rated for use on real steel firearms?

2903 days ago

Travis L

0

0

(I have this same question)

Staff Answer:

According to Aim Sports you can.

2902 days ago

1 answers
1 asked

What's the eye relief on this scope?

Does it have a somewhat large eye relief?

3002 days ago

Ian M

0

0

(I have this same question)

Staff Answer:

Per Manufacturer specs: 3 inches.

2999 days ago

1 answers
1 asked
Search Tags: DMR Sniper Optic Long Range Gun Rifle
People who bought this item also purchased: