Top 5 Best Airsoft Guns for Gifts in 2023
Are you looking to buy an awesome airsoft gift for that special someone in your life? We've compiled a list of the best value airsoft guns on the market in 2023, perfect for giving as a gift or for yourself! Let's dive into this list, and see what will be the perfect Airsoft gift for the airsofter in your life (even if it's yourself!)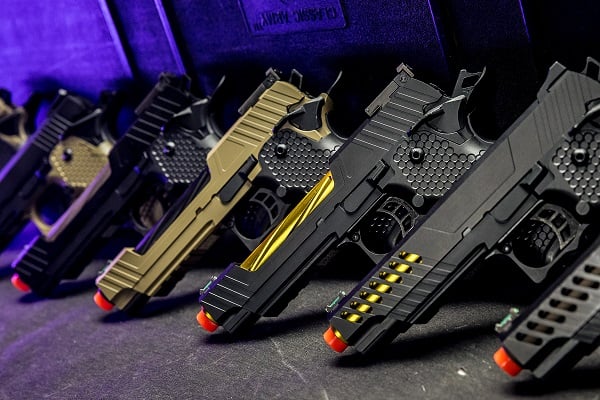 The JAG Precision Hi-Capa pistols have set a ridiculous precedent for quality and price. In the before times, you would be spending easily several hundred dollars to get a high quality, high performance Hi-Capa pistol, where now you can score a great platform to build on for just over $100 for the fanciest models.
These amazing pistols come in a variety of colors, styles, and budget ranges to fit whatever need you may have. From basic smooth slide tactical pistols, to the most Gucci of high speed blinged out BB blasters, these pistols have everything you could want in a Hi-Capa without busting the bank account wide open!
The Double Bell line up has made a complete mockery of other budget guns, by showing what a manufacturer can really do when they laser in on making quality guns with a focus on saving you money.
The double bell AEG line up now consists of guns under the $200 price point with insanely well built gearboxes for the price, including features like quick change springs for huge quality of life improvements. The FPS on these guns is consistent, making accuracy excellent as well. Couple all of that with a litany of styles for any player, and you have a real winner with Double Bell!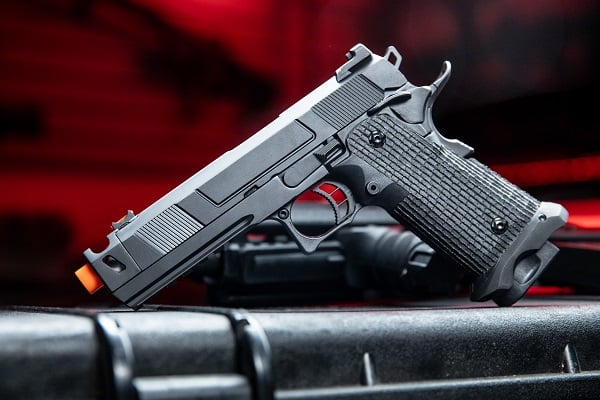 The Army Armament R501 is what happens when you take the Hi-Capa pistol, which has been one of the most popular styles in the last few years, and kick it up to 11! These pistol has style, flare, and performance oozing out of every nook and cranny.
The AA R501 pistol is a green gas powered Hi-Capa with a unique slide setup. It features a faux compensator on the end, for extra cool-guy points, and a unique textured grip that actually provides a tactile benefit when you are playing airsoft. The aggressive texture almost works like superglue to your hands when you grip the pistol, meaning no matter how sweaty and gross you get while you play, you'll always be able to handle this sidearm at the top of your game. With a price that is hard to beat, around $120, the AA R501 is another awesome pick for 2020!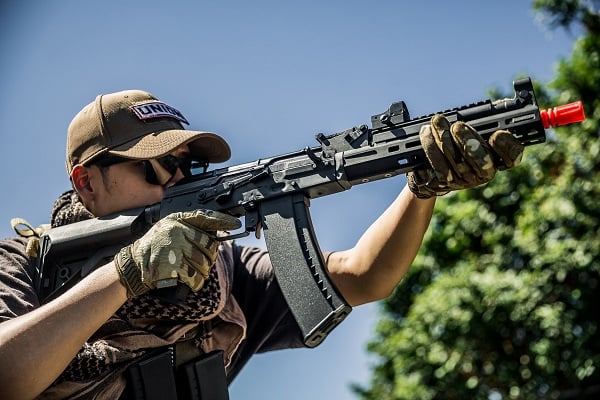 Moving on to some more expensive rifles in the list, we're going to take a quick stop at Arcturus. The Arcturus M4 is one of the standout releases in the airsoft hobby recently. These guns include more features than many players aftermarket upgraded guns, all under $300.
While Arcturus provides many styles of M4 that can vary appearance based on preference, the Arcturus rifles all include the same features on the inside. These features include a tightbore barrel for increased accuracy, a very well built gearbox with a quick change spring system, and a microswitch trigger that makes rapid fire very very easy and satisfying.
The build quality on these guns is top notch as well. All of the rifles feature stout and sturdy metal handguards replete with modular rail space for the attachment of accessories like lights, lasers, sights, grips and anything else you can bolt onto an MLOK segment!
Last, but by no means least, is the most expensive gun on this list, but definitely the gun with most to show for its price tag, the KWA Ronin T10.
The KWA Ronin series of guns are absolutely legendary. Many feature an adjustable FPS system, but the Ronin T-10 forgoes that in favor of a system even more epic: Electric Recoil!
This Electric recoil system gives the Ronin T-10 an unparalleled level of realism in an electric airsoft rifle, delivering force feedback with every pull of the trigger. This sensation heightens the fun level of airsoft game play, even if you're not actually hitting anything! Pair all of that immersion up with KWA's industry leading performance and additional features, such as the included PTS-Syndicate Sights, Pistol Grip and Spacious EPS stock, as well as their trigger contact saving system, and Gate Titan drop-in compatibility, and you simply cannot beat the Ronin in this price bracket!
For just under $400, it's definitely the most expensive gun in this year's top 5, but it's absolutely the best "bang" for your buck as well, offering something no other gun offers!
There you have it, the Airsoft GI Top 5 Best Airsoft guns for 2020! We firmly believe each of these guns deserves a place in your airsoft collection, or as a gift for the airsofter in your life. They all feature quality construction, performance most players only dream of, and value that is off the charts great! Do yourself, or that special airsofter you know a favor, and order one of these from Airsoft GI Today!