TOP AIRSOFT AEG RIFLES UNDER $200 FOR 2020
With 2019 coming to an end, letís help airsoft grow bigger than ever before! If you are getting started, trying to get someone else started, or even looking for a new gun. I have created a list of the top 5 Airsoft AEGís for under $200!
First on my list will be the Arcturus NY02CQM4! Arcturus has made waves in the airsoft world overseas! They have made their way to America and they do not let down. Arcturus did not skip any steps with designing and building their guns. The NY02CQ M4 has to be one of the best airsoft rifles out of the box! Externally this gun utilizes a very durable polymer receiver with an ambidextrous magazine release and fire selector. The ergonomic pistol grip and full metal M-LOK Rail system provide comfort and customization. The gearbox is wired to the rear and utilizes a SOPMOD style crane stock to fit a wide variety of batteries. Internally you are getting a high end build that can be considered completely customized. The inner barrel is a 6.02mm diameter with a rotary style hop up unit. Going into the gearbox, you will be getting a micro-switch trigger. Sintered gear set with a very beefy spur gear. For compression train, the gearbox will be utilizing a full metal rack piston and a o-ring air nozzle with sill provide reliability and near perfect compression. The gun will be shooting around 370 FPS, but the gearbox is also using a quick change spring system to achieve the FPS you desire. All of these parts would be what you would install aftermarket to improve your gun! Arcturus includes them out of the box! Anyone who gets this gun will not be disappointed! The best part about this gun is the price! The Arcturus NY02CQ M4 retails for only $154.95! For increased reliability, you can get a full metal model starting at $234.95!
Second on my list is the H&K Competition MP5 SD6 by Elite Force. If you are tired of the M4 platform, the MP5 provides an iconic look and great performance. I choose the SD6 model because of the look and the battery space. Elite Force does have another competition model available in the A4/A5 kit. It will have the standard MP5 hand guard, but includes the A4 and A5 stock for you to choose what you like more! Out of the box these will be coming with 2 magazines. Internally the gearbox is featuring a Double O-Ring Cylinder Head and a O-Ring Air Nozzle for very consistent FPS. The receiver is made of both metal and polymer with a one piece metal outer barrel. This will give you more stability and a very solid construction. This gun is shooting around 330 FPS which is perfect for CQB. The Elite Force MP5 SD6 retails for only $184.95!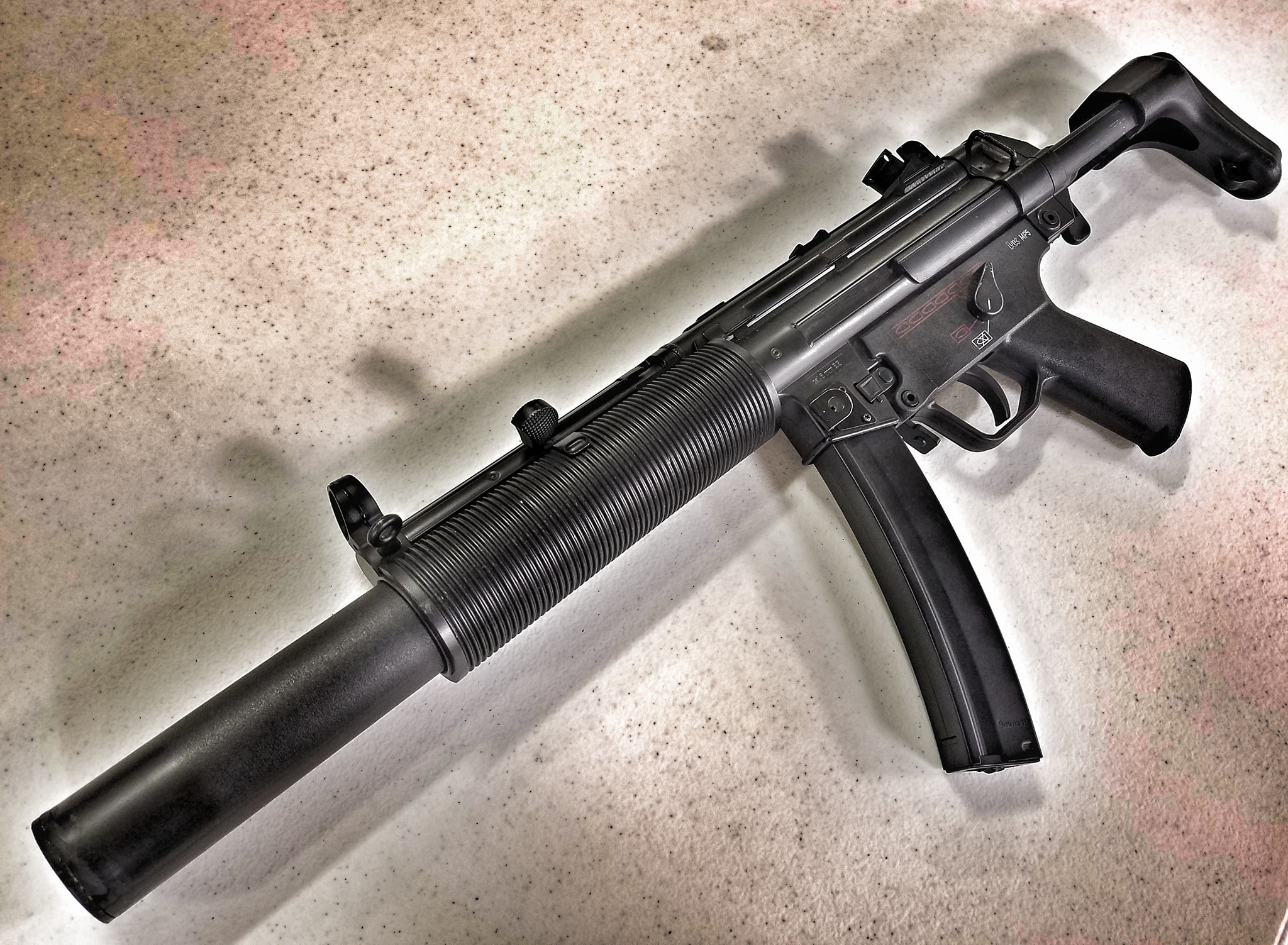 Third on my list is going to the Interceptor SPR M4 Gen 2. Lancer Tactical has made a large amount of improvements from their first release of affordable airsoft guns. Across all of the Gen 2 models They will have be using a Quick Change Spring Gearbox. Lancer Tactical does offer all of their models in low and high FPS variants, but if you later decide to change the FPS to meet a specific field requirements. You will be able to with ease. They are using better quality gears and compression parts. All models will also be using a 6.03mm diameter inner barrel and rotary style hop up unit. They will be using a improved polymer upper and lower receiver, which is much more durable than their pervious plastic receivers. The Interceptor SPR specifically has a M-LOK Rail with a monolithic upper rail. The Rail does have small picatinny rail sections for you to mount accessories without getting an adapter. This gun also includes a blast compensator to extend the rail and give a very unique and aggressive look. Also included out of the box are flip up iron sights, a ergonomic pistol grip, and a SOPMOD crane stock for batteries. This model is available in black, tan, and gray to choose the color you love the most! I forgot to mention that this gun will also include a 9.6v battery, charger, one high capacity magazine, and 1000 rounds of Lancer Tactical .20g BBs. The entire package starts off at $139.00!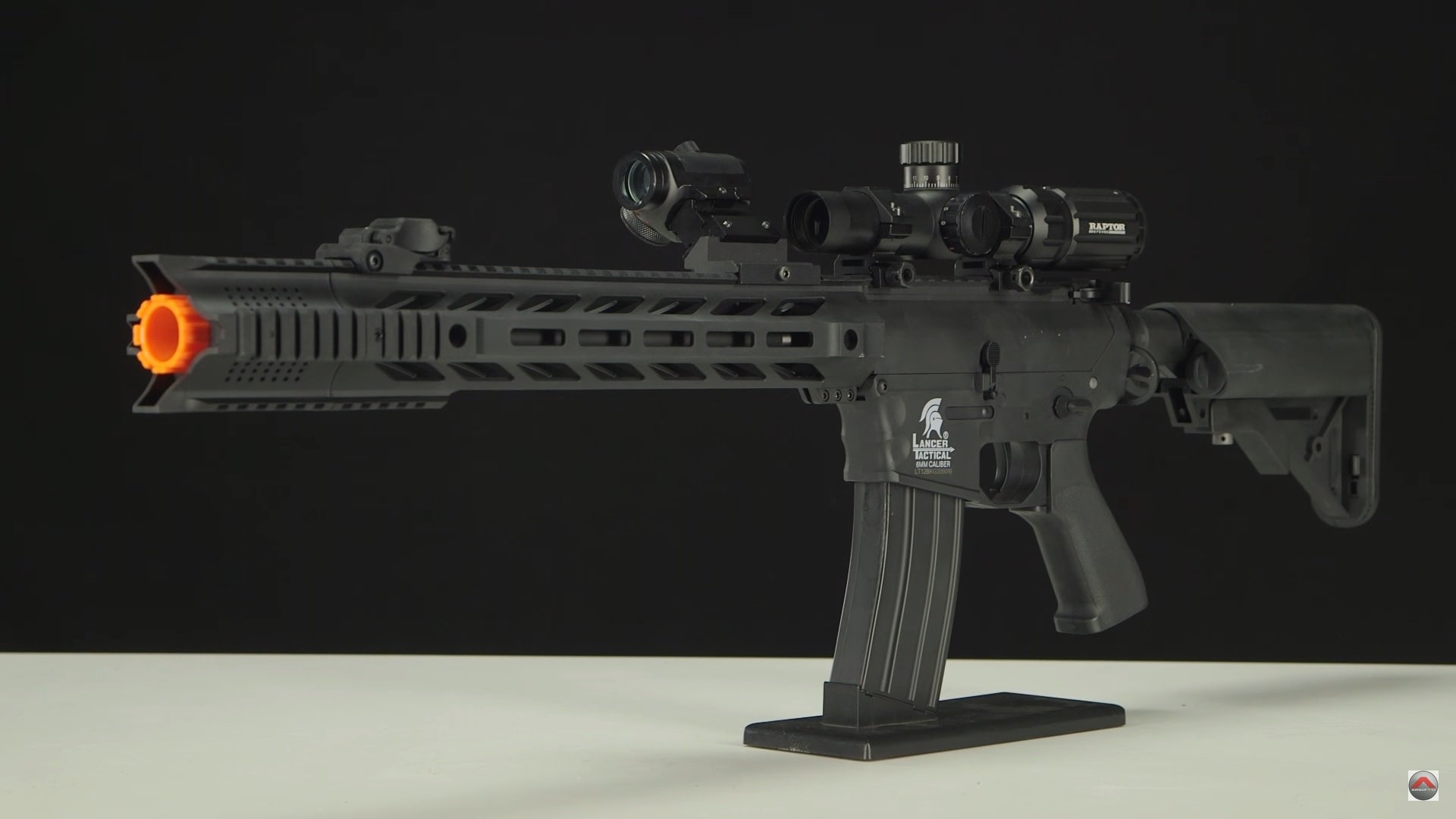 Going off the rail for my fourth pick. The Echo 1 GAT X SMG (General Assault Tool) is a very under rated AEG! The Echo 1 GAT X now includes the M4 buffer tube and minimalist stock out of the box! Turing this SMG into a Pistol Carbine! Additionally there is now a top rail section to mount optics and accessories. Both of these additions increase the ergonomics and functionality of the GAT. Out of the box this gun will include two high capacity magazines, a battery, and a charger. You can upgrade the gearbox to fit whatever you want! Our world class tech department has built one with a DSG, mosfet, and a very fine hair trigger. All of you SpeedQB players out there will love this SMG! The GAT X is currently available for $175.00! Airsoft GI does have the Exclusive Cerakote GAT in red, green, and teal! We also have the M4 buffer tube kit sold separately!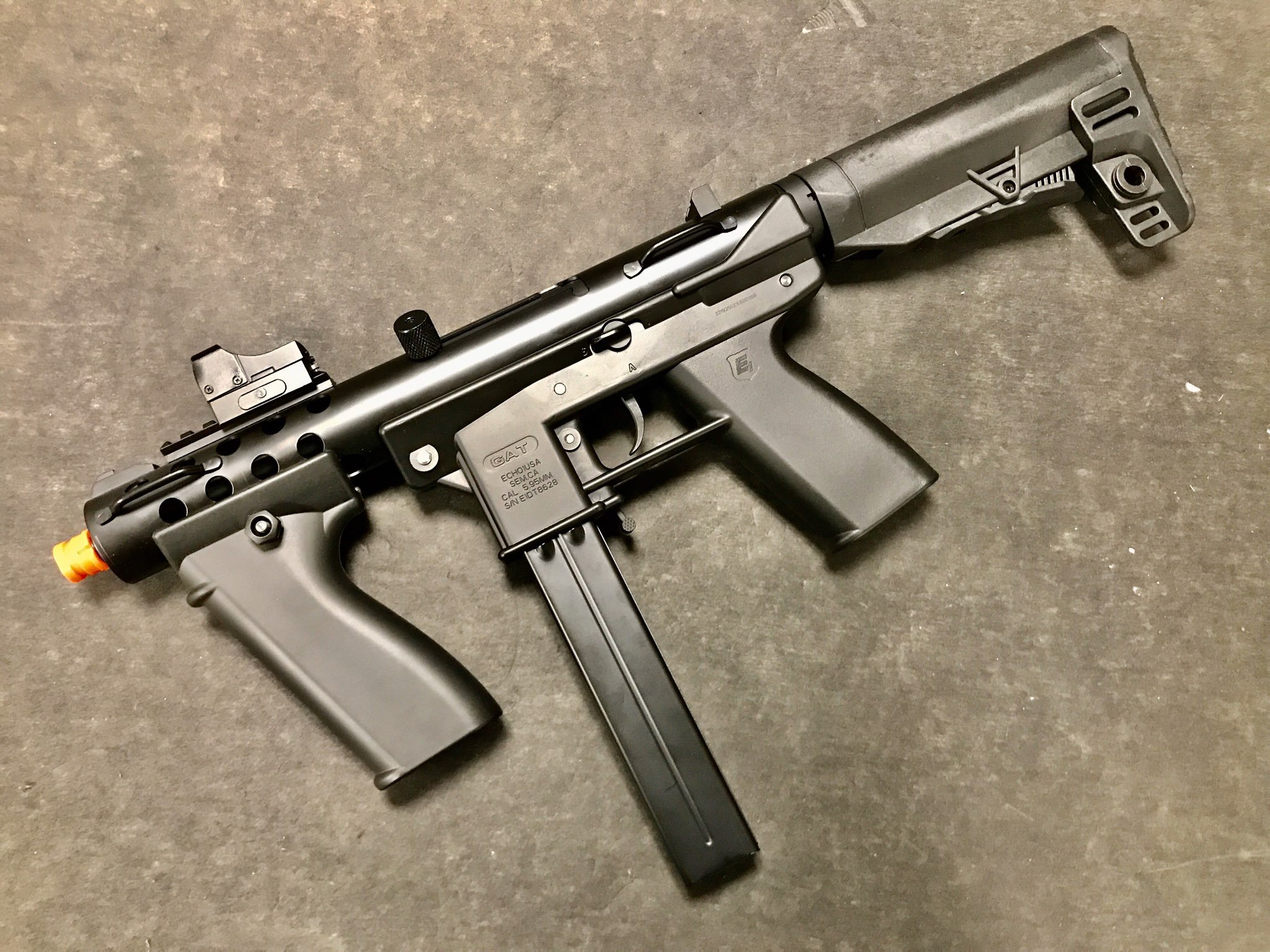 My fifth and final pick is the Skirmish MK18 by Classic Army! Starting off with the externals, the Classic Army MK18 is using their very durable glass-filled nylon fiber receiver. This provides strength at a very light weight. The ergonomic pistol grip and SOPMOD crane stock give plenty of battery space. Classic Army includes one high capacity magazine and flip up iron sights. Then we finally get to the MK18 rail system. This is a full metal two piece rail system. The reason the rail is a two piece system is for you to use a barrel mounted M203 Grenade Launcher and still have the ability to mount any accessories you want! Going into the internals, the Classic Army MK18 is using a 6.03mm diameter inner barrel with a rotary style hop up unit. The gearbox has a quick change spring system and mosfet protected trigger contacts. Allowing you to change the FPS with ease and run higher voltage batteries without burning out your contacts. Inside the pistol grip is Classic Armyís high speed and high torque motor. Giving both great trigger response and rate of fire. The reason I choose the Classic Army MK18 is because of the rail. Madbull makes a MK18 Rail that you can install separately. That rail is normally retailing for $130.00. Here is the kicker. The Classic Army MK18 retails for $189.99! If you planned on building a MK18, you can spend $60 more and get a completely built gun with upgraded internals! THIS IS INSANE! The quality of the gun and what you get for only $190 is just crazy!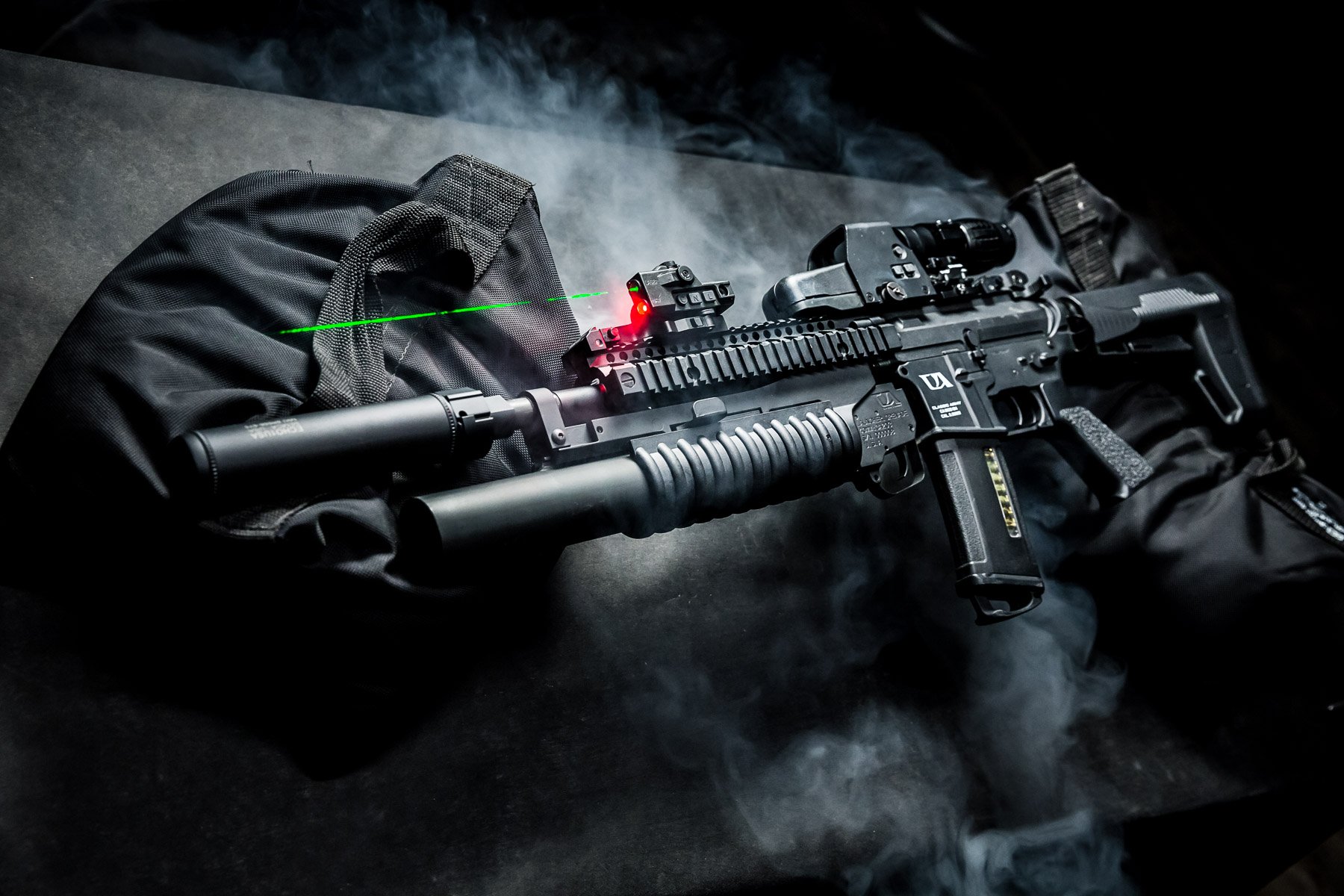 I wanted to include APEX CQBR M4 in this list because this gun is probably the best bang for your buck! Starting off with the externals, you are getting a polymer lower receiver. This is both durable and keeps the cost low. The outer barrel is full metal and is a standard outer barrel, meaning that you can install after market rails without any issues. The buffer tube is full metal as well. The gun uses a standard A2 pistol grip and SOPMOD stock. Out of the box the gun will include one high capacity magazine and a polymer two piece rail system to replace the standard hand guard. Giving you the ability to mount the accessories you desire. Internally is where the gun shines! All of the Fast Attack Series features a 6.03mm diameter inner barrel, rotary style hop up unit, Classic Army High Torque/Speed Motor, and a LiPo Ready Gearbox! The gearbox uses a quick change spring system with low resistance wiring. A very cool feature included is the Flat Style Trigger for a more aggressive and modern look. The reason why I wanted to include this gun is because of the price. You get all of these upgraded features and great performance for only $110.00! You get a upgraded, LiPo ready gearbox for about $100! With great trigger response and rate of fire. There is no way you can beat this amazing value!