KWA EVE: The Best Airsoft Rifle of 2023?
We're so excited to see such a deluge of new products during 2023! All of the guns we were supposed to see last year are finally dropping. KWA couldn't resist putting a spicy new blaster in your hands this year, and they didn't just stop at one, we got two (and a limited edition) new rifles for you to drop your hard earned duckets on!
The KWA EVE series of rifles comes in three flavors for you to chew on, the EVE-4, the EVE-9, and the Limited edition EVE-ICE, a special variant of the EVE-4. These new models are priced to strike right at the heart of entry level players, but provide you with the high end player performance you crave, brand new aesthetics to whet your whistle, and tons of options to customize these guns exactly to your needs.
The EVE-9, a mid-price AEG for the Mid-Range Player
The KWA EVE-9 is the longest of the three offerings, with a 9 inch handguard and barrel, and a telescoping stock. It is clearly designed for a player who wants a gun capable of really maximizing the versatility granted by KWA's 2.5 gearbox design and its ability to fluctuate your velocity (FPS) up or down with the turn of a screw.
You'll notice a few features that are the same between the three guns, including the unique upper and lower receiver, with the built in pistol grip, and unique almost XCR-esque lines. The rail houses a forward mounted charging handle, which we love, as it allows you to more easily brace the gun as you adjust your hop up. They all share a magazine with the ice-blue base plate and window, and all include a vertical grip and rail panels.
The EVE-9 differs physically with the telescoping stock and longer handguard. This rifle is perfectly suited for the mid-range player, who may be indoor speedy-boy-ing it up one weekend, and then hitting the MILSIM of the month up the next. Simply dial up or down the power with the 2.5 gearbox's adjustable FPS mechanism, and tune your gun to wherever your playing. A longer monolithic rail makes this gun more suited to larger optics, like red dots with magnifiers, or LPVOs. There's more than enough room on this beast for lasers, lights and any other attachment you could dream of.
The EVE-4, a short barreled shooter for the short game
The KWA EVE-4 takes a more CQB minded approach from the EVE-9. It features the same receivers and stylings as the larger unit, but swaps out a 4-inch front end and a PDW style stock to make it ultra compact.
The PDW stock appears at first glance to be lacking for battery space, but that couldn't be farther from the truth. You should have little issue fitting normal sized LiPO batteries into this gun, especially with the Deans plug included from the factory, an upgrade present on each EVE series rifle. It is adjustable for length as well to fit most shooters.
The 4 inch handguard makes this gun more suited for traditional red dot style optics, but you could mount a scope if you so chose, since it is monolithic. It wouldn't be the worst idea in the universe, as despite it's smaller stature, this gun is still capable of reaching incredible lengths. We'd set it up with a dot, a light, and the included grip for the perfect close quarters monster.
The EVE-ICE, for Stone Cold Shooters That Want To Stand Out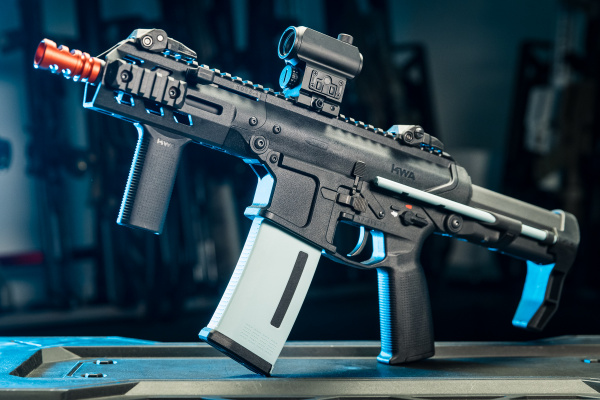 The last offering from this first run of EVE series rifles that KWA has produced is the EVE-ICE, a limited edition variant of the EVE-4. While it is pretty similar in features to the EVE-4, you know Airsoft GI couldn't let a limited edition rifle go without adding in a bit of extra fun right?
That's right, we built a premium package for the premium player, featuring the EVE-ICE and some very necessary accessories to help make this the ultimate EVE rifle setup. We've packed the rifle full of accessories, including a compatible battery and charger, a gun bag, and an epic VISM red/blue dot.
We chose this VISM dot for it's blue option, as it matches the extra Ice blue appointments on the rifle, that include a blue magazine shell, and the blue forks on the stock assembly. The battery and deans adaptor will make sure you can get this thing up and running just a short charge cycle after you get it delivered using the included charger, and the bag makes sure you have somewhere to store all of it.
This bundle is the ultimate must have, and you're going to save over $50 off the retail price, that's like getting the battery and charger for essentially free!
Why Should You Add an EVE to your collection?
Whether you choose the EVE-9, EVE-4, or EVE-ICE, they share some common traits that make these a must own rifle. KWA purposefully designed every inch of this rifle to be the ultimate players rifle.
Ergonomics on this blaster are second to none. The pistol grip evokes feelings of the classic Magpul pistol grips that have been a mainstay of real-steel shooters for ages. Each size combines with a stock option suited for the rifle at hand, but neither lack in battery space and comfort. The included vertical foregrip with every gun means that you'll have an easy to use comfortable gun right away, and the added MLOK rail sections mean whether you have legacy picatinny parts or more modern offerings, you can customize the guns immediately.
The most important piece of the puzzle to the EVE however, is the 2.5 Gearbox. You may already be familiar with the mechbox already, as it's been in KWA's highly sought after Ronin series for a while, but for those of you who are new here, the 2.5 gearbox takes the Version 2 style box found in most M4 pattern rifles, and makes it even better, with a beefy adjustable FPS system in place of your traditional spring guide. This means that with the turn of a screw, you can hop your FPS up to around 380 or as low as about 330 with the stock spring to get your rifle in at almost any field in the USA.
This gearbox includes some of the snappiest trigger response of any electric airsoft gun system on the market, which only makes you more effective with snappy follow up shots and quick rate of fire. Combine that with KWA's legendary penchant for great barrel and hop up setups, and even though these rifles may be small, they are very mighty forces on the battlefield. You'll be able to land shots at absurd distances, with a rifle that looks like it'd never come close to hitting ranges that far due to the size.
All of this comes in a package that starts around $230 makes the KWA EVE a must have, and you can check out all three models for yourself right HERE.